Convert Orphan Outlook PST Files
Open Outlook Conversion . Go to Start menu » Programs » Outlook Conversion » Outlook Conversion. Software will display the following screen: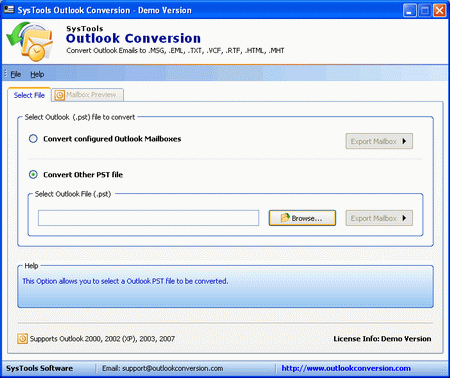 Choose Convert Other PST File to convert orphaned Outlook PST files stored on any other location to MSG, EML, TXT, vCard, RTF, HTMl, MHT files as shown below: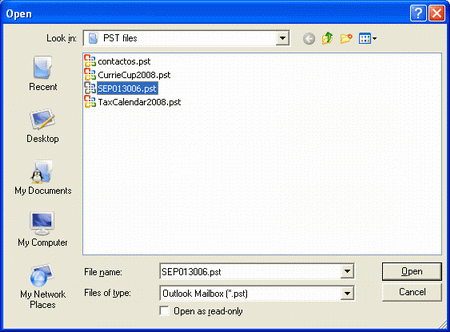 Select Outlook PST file and Click on Open button.
Now Click on Export Mailbox button from the following screen:
Now Software will dispaly all the folders present inside the selected Outlook PST file. View all the folders of the selected Outlook Mailbox on "Mailbox Folders" pane as follows: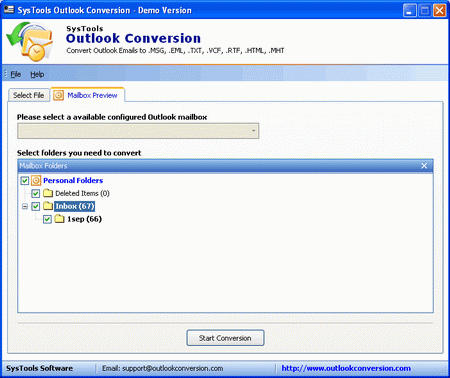 By default, all the email folders are selected. But you can also convert selected email folders by un-checking the unwanted Outlook email folder.
Then click "Start Conversion" button to convert Outlook mailbox. Software will ask the location to save converted PST file as follows: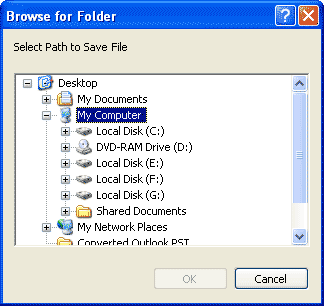 Now choose the location where you want to save the file and click on "OK" button.
After choosing the saving location, software displays "Convert Outlook Mailbox" screen as shown below:
Now, Choose any one of the above file formats and click "Convert Outlook Mailbox" button to start the conversion process. After this Outlook Conversion will start converting Outlook mailboxes to select file format and will provide Conversion Progress details at the very bottom of the above screen as shown below:


Outlook Conversion software creates a folders named as "Converted Outlook PST" in the saving location.
If you want to convert your Outlook PST file saved in your MS Outlook or Configured PST file, view Guide for Configured PST File Conversion.